This post is part of the series Quick Tips
Other posts in this series:
All WordPress pages but the homepage give a 404 error (Current)
More and more often I keep seeing posts asking about what's going on with their site when only the homepage seems to be working. Even developers are sometimes caught off-guard when this happens. This little quick tip should help you out in roughly 99.99999999% of the time.
So how would you fix this? Simple. Just re-save the permalinks. That's literally all there is to it.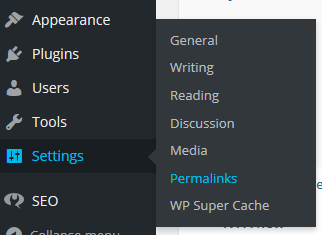 To do so, what you'll need to do is head over to the "Permalinks" settings page. You can find this page by hovering over the "Settings" option in the left sidebar of the admin and then selecting "Permalinks".
Once the page loads, you don't even have to touch any settings. Simply click the blue "Save Changes" button that is near the bottom of the page.
Now, it may be cause for alarm when your site has been running great for a while and suddenly your subpages don't work. In those situations, re-saving the permalinks will also work but you will also want to look for the root cause of why they broke. Otherwise, you may end up re-saving them every other week. In general, you'll want to consider what plugins you installed last, and what plugins have been updated recently.
If re-saving your permalinks doesn't fix this issue (I can almost guarantee that it will, but you never know), find me on Twitter and I'll help you figure it out.